FAQ
Why should I use PapairWrap for my shipping?

PapairWrap is safe, cost effective and sustainable. Companies no longer have to choose between profitability and sustainability, PapairWrap makes both possible at the same time. With a high cushioning effect and low volume, you can not only avoid unloved plastic waste in your shipping packaging, but also improve the customer experience of your customers. PapairWrap not only has a positive effect on your environmental balance.
Are the bubbles actually airtight?

The padding effect of PapairWrap is not based on the inclusion of air, but is achieved through the geometric shape of the bubbles. In the event of a shock, the forces that occur are optimally dissipated by the product and your products arrive safely and heal at the recipient.
How good is the padding effect of PapairWrap?

PapairWrap has cushioning properties comparable to those of conventional bubble wrap. We were able to clearly demonstrate this in a first series of comparative tests. You should not be fooled by the stability of the individual bubbles, which is certainly higher in the plastic version due to the air pockets. The forces coming from the PapairWrap are seen on the surface, thanks to the 2-layer design, are well distributed, you can imagine that, like a bed of nails.
What paper is used to make PapairWrap?

Only recycled paper is used in the production of PapairWrap. For us, sustainability starts with the delivery routes, which is why we source our paper exclusively from German manufacturers.
Is glue or plastic used?

The paper webs of PapairWrap are connected to each other using a special process using pressure and temperature. No adhesives or plastics are used. PapairWrap is therefore optimally recyclable and completely biodegradable.
Are there restrictions on using PapairWrap?

PapairWrap is versatile and can be used in the same way as the plastic version in most cases. Naturally, recycled paper has a certain roughness on the surface. In the case of very sensitive surfaces, it cannot be ruled out that the material can cause so-called micro-scratches. You should just test that first.
Where is PapairWrap produced?

We rely on "Made in Germany". Our production halls are located in Rethem an der Aller in Lower Saxony. From there PapairWrap is also sent directly to you.
What types of PapairWrap are available?

The two-ply PapairWrap is available in the "Classic" version with 50% recycled paper and in the "Eco" version with 100% recycled paper. In addition, all products are also available as single-layer "Classic" or "Eco". We would be happy to test which version is best suited to your needs together with you in our PapairLab. Simply contact our sales team.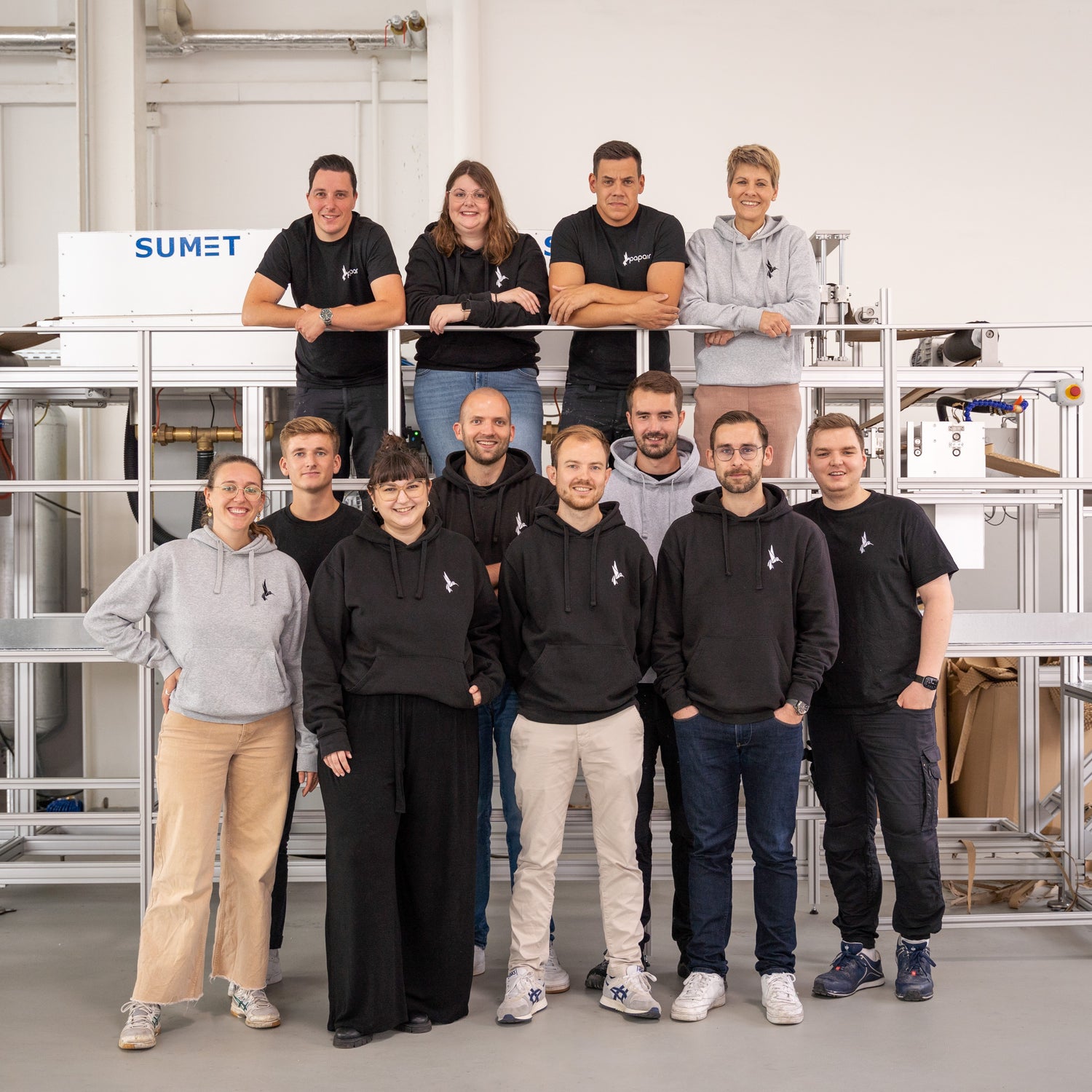 More questions?
Contact us via
Email: sales@papair.de
Phone: +49 511 54619625
or simply use our
contact form
Subscribe to our newsletter
to not miss any new products, offers or news about Papair!